Box of Ideas
-- doesn't that sound delicious? It brings to my mind a treasure chest filled with Pirate booty. In our house, my youngest granddaughters and my son-in-law frequently dress in Pirate garb and race around the house searching for treasure with lots of pirate talk like "Arrrrrgh, Matey! Walk the Plank!" My particular treasure Box of Ideas came in the form of downloadable PDFs. Each one contains treasure! You can also opt to get a physical box of ideas delivered to you through the mail with all the copies made for you, but it is quite easy to print off what you need either on paper or cardstock as the instructions prescribe and do everything with the download.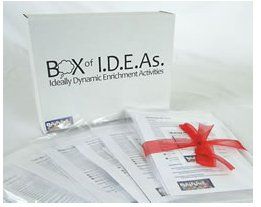 My particular box of ideas is "
World War II - Pearl Harbor
." The company has many other boxes of treasure available too. I can't wait to check out the Quilting Box of Ideas. There are many fun things you can learn with a treasure box from
Box of I.D.E.As. (Ideally Dynamic Enrichment Activities)
We delved into our treasure chest and I pointed out to my granddaughter (age 13) that there was a treasure -- a nugget or pearl -- in each module and we need to find it. The first module was ideally suited to her. It is called "Before Becoming a Base." This refers to the Naval Base that Pearl Harbor became. Before the Naval presence was there, however, it was just a beautiful harbor that was know for its oyster population, the beautiful shells, the wonderful edible soft inside and the wonderful pearls that were harvested from them. This particular module was well-received by my granddaughter because she is an animal lover and the first thing it discussed is endangered animals and why they sometimes become extinct. There are two card games that can be played at this point with cards printed out on cardstock. The cards are of endangered animals and portray what part of the animal is coveted by poachers and / or harvesters of these animals. There are links to interesting information on pearls and a printable ruler that can help you measure pearls, for which there is a printable worksheet. Obviously the treasure here was a literal pearl and an understanding of where it comes from and the various sizes and quality of pearls.
Module 2 is "Beginning of a Naval Presence." Here we learned about Maps and the Whaling Industry. The worksheet is on Bathymetry, which is mapping the depth and contour of the floor of an ocean. The cards are fun pictures of the uses of whale products such as whale oil for lamps, whalebone for ladies' corsets and panniers, hair accessories etc. There is also a map game using the printable map charts. Treasure is even mentioned in this module! Question 9 on the worksheet reads, " The sunken treasure chest measures 2 ft x 2 ft x 2 ft. 253 gold coins fit in each cubic foot. Calculate how many coins the treasure chest holds."
Module 3 is "A Week Before the Attack." In this module we find out a little about military jargon and what the military forces were doing a week before the attack on Pearl Harbor. We learned about the aircraft carriers, the supplies being taken to the Pacific and other pieces of military equipment and aircraft. The card game is about the various military branches that came into play during this time in our history: U.S. Navy, U.S. Army, W.A.S.P (Womens Air Force Service Pilots), United States Merchant Marine, U.S. Army Air Forces, and the National Guard. For a military dependent like my granddaughter, the treasure in this module was learning a little bit about the history of our country's military.
Module 4 is "Day of Infamy" -- the attack on Pearl Harbor by the Japanese (December 7, 1941). In this module, my granddaughter had the opportunity to write an essay on another day of infamy in our country's history and why it should be considered that way. She picked September 11, 2001, and all the attack on American soil by terrorists. She wasn't even 3 yet when it happened but she has heard much about it over the years and wanted to write about that. There were some great links provided for this module and a copy of Franklin D. Roosevelt's speech. Also included is the "rough draft" of his speech where you can see what was crossed off and replaced before the final delivery of the speech -- very interesting. The card game here constructs a timeline of events on that fateful day.
Module 5 is "Day After the Attack" and deals with newspaper headlines on that day. The activities included taking notes for a whole day and writing a factual account of events of that day, reading newspaper articles about the attack on Pearl Harbor and deciding how objective the writer was, and finally, writing a headline and article about something that happened to the student or a family member or friend. My granddaughter really enjoyed this assignment. I don't think she will switch her interest to journalism from veterinary medicine, but she may be the newsletter editor for a club or organization some day. The cards are "memory cards" with questions about the attack on Pearl Harbor on them. There are some really nice pictures of those events printed on the other side of the cards.
Module 6 is "Weeks After the Attack." This deals with the clean up of the naval base after the attack and the sunken ships in the harbor, specifically with the raising of the "Oklahoma" from its watery grave. The worksheet is putting the events in the salvaging of the Oklahoma in order. The card games is matching a description to the photo it goes with and then flipping the description cards over to spell a term related to the module. If you spell out that term when you flip them over then you matched correctly.
Module 7 is "Six Months After the Attack." This deals primarily with Code Breakers and the Navajo Code Talkers. The card game with this one was a treasure! The airplane side of the cards is face up. These are cool depictions of WWII fighter planes. If a player draws a ship part they lay it in front of them. If they draw a bomb they lose a turn or win a piece from an opponent. The one with the most completed ships when all the cards are gone is the winner.
Module 8 is "A Year After the Attack." This one is all about the planes. We didn't get to put together a model of one of the airplanes but we did do quite a bit of research on them. The worksheet is about matching acrobatic maneuvers of the planes. The card game is about flight patterns. This module would have been more interesting to a male student who loves airplanes very likely but we had fun with it anyway.
Module 9 is "Four Years After the Attack." This one is about our victory over Japan -- VJ Day (September 2, 1945). We concentrated also on the use of atomic bombs to win the war and the devastation that was caused by those bombs at Hiroshima and Nagasaki and the potential for mass destruction in the future with the vast improvements that have been made on this technology. This was a sobering module for us.
Module 10 is "Decades After the Attack." This one is about the U.S.S. Arizona Memorial and modern-day Pearl Harbor. The cards are about memorials all over the world with really nice pictures and descriptions and a pinpointed map. We have decided that our ultimate treasure would be to someday visit Pearl Harbor and see all the history and the memorials to that day.
This system is a wonderful way to study a subject. It keeps interest high with all the activities and card games. You can take as much time as you want on each module. You are the homeschool teacher so you can decide how much time you can devote to it and how much extra research you want to do to glean even more on the subject. Available topics are World War II, Eleven -- go
HERE
for a description, Pigs, Salt, Quilting, and Laundry. Coming soon: Mystery, WWII Kitchen, WWII Innovations, Olives, Pine, Cemeteries and "many more!" For the Box of Ideas that I am reviewing, the cost is $49 for the download like I had, or $79 for the physical box with everything printed out for you. If you have more than one student, you can buy an extra student module for $4 each. See the information
HERE
. Happy Treasure Hunting, Matey!
To read what others on the
TOS CREW
had to say, please click on
TOS CREW
.
Disclaimer: As part of the
TOS Homeschool Review Crew
, I was given a this unit study on Pearl Harbor free of charge to review. However, I did not receive any compensation. All opinions are my own.