HTML -

Link
1 year (4 issues) - $19.95
Each magazine is approximately 60 pages with lots of beautiful full color photography and interesting articles. There are some ads but not an excessive number. There is a little something for everyone here.
The Spring 2012 issues contains an article on hummingbirds with lots of nice pictures. Next is an article on Yellowstone and another on Bonaventure Island. Following that is an article about Creation Day 6, Part 3. Following is an inspirational article and then an article about "Genesis Cuisine," which includes recipes for some refreshing natural drinks. Then, my favorite part, a children's story: "Bunny Surprise." Next there is a photo contest for youth and then an Instructional Guide that will help you incorporate all this into your lesson plans and some suggested activities.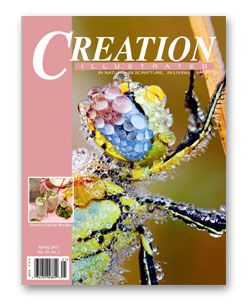 These are just beautiful magazines. My 1st grader loves the stories and looking at all the pictures and discussing them. My High Schooler just devoured these. She is into all things about animals and nature and loves her science curriculum which is all creation-based. If I am not careful, these magazines will disappear into the abyss of her personal collection never to be seen by me again.
This is a great magazine and a wonderful supplement for our homeschool curriculums and I would highly recommend it to all homeschool families and families with children in public or Christian schools. There is so much here and such good information. Grandparents: what a wonderful gift a subscription would be for your grandchild for their birthday or "just because."
To read what others on the TOS Crew had to say, please click here:
CREW
Disclaimer: As part of the TOS Homeschool Review Crew, I was given the 4 most recent issues of this magazine free of charge to review. However, I did not receive any compensation. All opinions are my own.
Get a Free Issue as part of a subscription offer
OFFER