Crossbow Education
sent me the
Eye Level Reading Rulers
10 pack of colored overlays to review. These are sale priced at $16.95 for a pack of ten. They also sell anti-glare sheets to put over your work. They sell other products to help people learn to read as well. These overlays are used for visual Stress (Irlen Syndrome) and dyslexia. The overlays have a part that just shows one line of text you are reading and the other can show you the paragraph. It is my understanding that for people with Irlen Syndrome, this makes reading go from nearly impossible to much more doable. The company recommends that you try out each overlay until you find the one that works best for the student involved. They recommend the following order to test the colors: pink, celery, sky, magenta, grass, yellow, aqua, purple, orange and jade. They also mention that varying lighting conditions will affect the selection as well.
I tried these out on my 7 year old granddaughter and could not establish much difference in them as far as her ability to read the text but she preferred the magenta and expressed the opinion that she could read better with it. It is hard to really judge this as she has not been diagnosed with any learning disabilities. I did, however, do extensive reading on this subject and believe that this is a very helpful and necessary product for those with these disabilities. This company is a good resource for the overlays. It is wonderful that something as simple as one of these little overlays could so drastically improve someone's ability to concentrate and read text.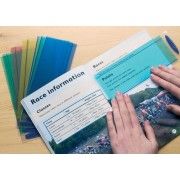 As part of the TOS Homeschool Review Crew, I was given this product free of charge to review. However, I did not receive any compensation. All opinions are my own.
To read what others on the TOS CREW had to say, please click here:
TOS CREW