This
KinderBach
APP
looked like so much fun I couldn't resist asking to review it. My 7-year-old granddaughter loves to play on the iPad so she was excited too. We have had a few glitches and false starts with this very large APP, but they have all ironed out and she has had a lot of fun with it. She has had piano lessons before so she knows her way around a keyboard, but this APP really helped her with the theory side and made it a lot more enjoyable. I can't wait to try it on our toddler who seems to have music in her soul!
There are 30 lessons in all with 4 videos under each and 6 games to play. This is intended to be a whole year's worth of fun! For each lesson there are worksheets to download. Some need to be printed on card stock and cut out and most are to be colored. If you are unable to print from your iPad you can buy downloadable PDFs of these worksheets for a minimal price from the website. You can also buy songbook CDs that go along with this. This would be great for our kids since we do a lot of traveling in our van and they can watch DVDs or listen to CDs to help pass the time. The more saturation they receive of the material, the more they retain.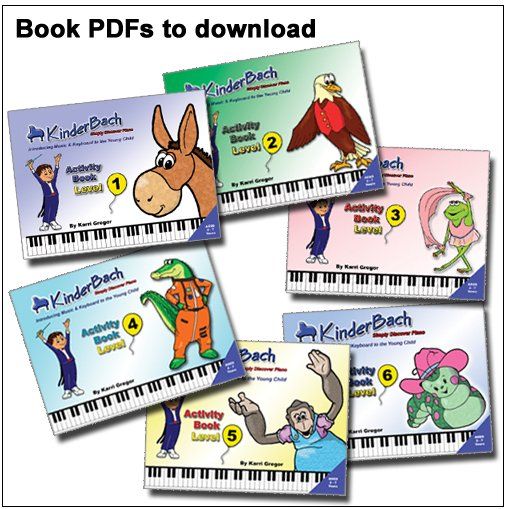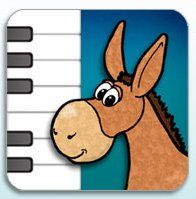 Throughout the lessons we interact with a whole cast of characters including Frisco (little boy) and Dodi (his donkey) and a bunch of others -- all associated with the keys on the keyboard. Karri Gregor, the teacher, spends time showing the student the keyboard work and in the beginning, she explains all about rhythm instruments which can be made from many common things in your kitchen -- tapping a bowl with a wooden spoon, shaking a container of beans, tapping things together, etc.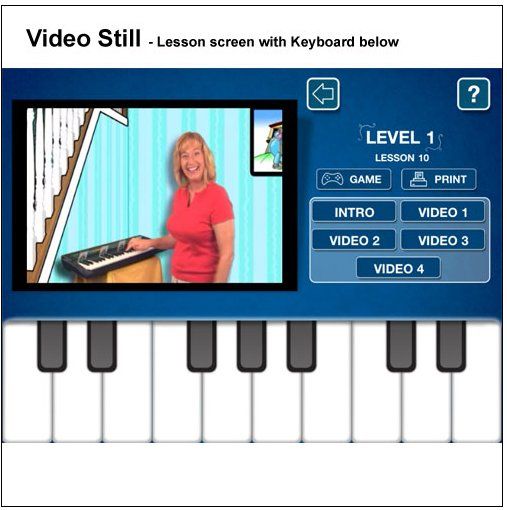 One of the games involves playing music patterns. One of the activities during the lesson is making these pattern cards. In this game, Miss Diddle puts a pattern card on the music rack and demonstrates it on the keyboard and then the student plays it on the keyboard. The game keeps their score compiled so they can see their progress.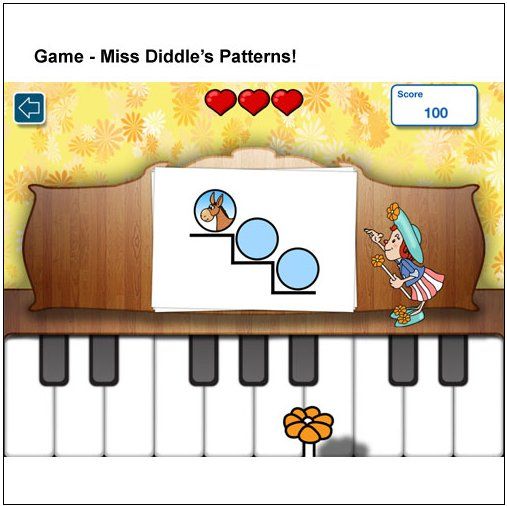 I like the graphics and the videos. I also like the pace of this program. You can have your child do little short segments at a time so they have time to absorb the material or if they are catching on quickly, they can do all 4 segments in a lesson at one sitting. This will also depend on the age of your child. My granddaughter loves the little keyboard right on the iPad so she can play the lesson as she goes. Sometimes she also props it up on the music rack on our piano and plays on the piano. It just depends on where she is and what she wants to do.
I wish we had had this program when my older granddaughter was in pre-school and before she had several years of piano lessons. I think this would have given her a good basis to get started and maybe held her interest for longer. I wish I had this opportunity when I was young but I had the standard piano lessons, theory books and recitals and nothing more. This is a really enjoyable way to get those little ones interested and get them started on the way to playing piano.
The
APP
I received is the School Version. This is where you purchase the entire program upfront at a cost of $26.99.
KinderBach is offering a special deal to my readers. This coupon code gives 30% off any order - homeschool, classroom, online
or DVDs.
Coupon Code: TOS_crew2012
Expires: 12/31/2012
Also the KinderBach App is on sale This Friday, Oct. 19th, 2012 ONLY. The
app will be discounted over 50%, down to $12.99! No code needed just the
link to the Classroom KinderBach app in the App store:
CLICK HERE
As part of the TOS Homeschool Review Crew, I was given this
APP
free of charge to review. However, I did not receive any compensation. All opinions are my own.
To read what others on the TOS Crew had to say, please click here:
TOS CREW