Hewitt Homeschooling Resources
Lightning Literature and Composition
British Early-Mid 19th Century Student Guide
Price: $29.95
British Early-Mid 19th Century Teacher's Guide
Price: $2.95
HTML -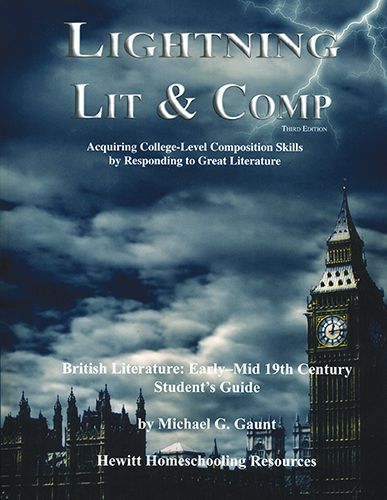 PO Box 9
Washougal, WA 98671
SEE IT HERE
I received the student and teacher's guides. The student's guide is a paperback book of about 235 pages. The teacher's guide is loose pages conveniently punched for a 3-ring binder and is about 88 pages long.
This study includes poetry from various writers and also goes in-depth on the following novels: Pride and Prejudice, Ivanhoe, Frankenstein and Jane Eyre. These books were not included but can be purchased separately at a very modest price or you can download a Kindle version free from Amazon.com (with a free Kindle reader for PC) or you can check them out of your local library.
My granddaughter and I are on a laid back summer schedule and she is pursuing a lot of outside activities so we have had less classroom time than usual and our enjoyment of this curriculum has slowed us down as well. We have spent more time than normal picking over all the ins and outs of the various writings. We are still perusing Jane Austin's Pride and Prejudice and trying to get everything from it that we can. We are discussing Characterization and Romanticism and working our way through the writing exercises provided with the text. This curriculum is designed for a whole semester and I have a feeling it will take us all the rest of the summer and the entire fall semester to complete this book as we are enjoying pulling every detail and nuance from it that we can.
If you are educating a high school student, please consider this course. It is delicious!
To read what others on the TOS Crew had to say, please click here:
TOS CREW
Disclaimer: As part of the TOS Homeschool Reivew Crew, I was given these two books free of charge to review. However, I did not receive any compensation. All opinions are my own.