Who is My Neighbor (What We Believe – Vol. 3)
Price: $39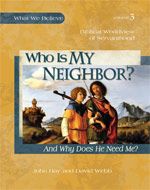 Who is My Neighbor Notebooking Journal
Price: $24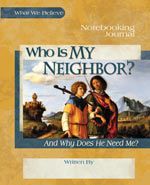 Who is My Neighbor Coloring Book
Price: $8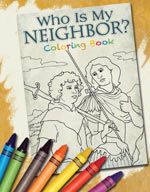 Apologia Educational Ministries
1106 Meridian Plaza Suite 220
Anderson, IN 46016 US
Phone: (888)524-4724

SEE IT HERE
These books constitute part 3 of a 4 part curriculum series entitled "What We Believe." The first set in the series is "Who is God?" Set 2 is "Who Am I?" Part 4 is "What on Earth Can I Do?" I was not previously acquainted with this curriculum so I have not looked at the other three sets, but I am very impressed by the one I received.
The hardback text book is Who is My Neighbor and Why Does He Need Me? By John Hay and David Webb. It contains about 276 pages and is a school quality textbook. The Notebooking Journal is a spiral-bound paperback of about 239 pages. The Coloring Book is a paperback and contains 64 coloring pages.
My girls have really enjoyed this series. Lesson 1 starts off discussing the fact that God created us to be in relationships with other people and with Him. Following is a story of a family fleeing China in the midst of Mao Tse-Tung's communist revolution in China. It continues on with the theme of needing others and talks about the Buddy System and why others need us too and the concept of Servanthood. Another story follows of the Wedding Feast where Jesus turned the water into wine. Lesson 2 is How Can I Make A Difference? :Lesson 3: Who is My Neighbor? Lesson 4: Why Did God Make Families? Lesson 5: What Can I Do For My Country? Lesson 6: Why Can't We All Just Get Along? Lesson 7: Who is God's Family? Lesson 8: Why Does the Church Need Me?
The Notebooking Journal has the lesson plans in the front of it. Apologia has broken the book down into 48 sessions which is approximately 10 weeks of study for the 8 Lessons contained in the books. Lesson 1 pages include 2 pages of questions about the China story, a "Words to Know" section, a page called "Hide it in my Heart" for Galatians 5:13. The student writes their favorite translation of the verse on the page and then memorizes it. There is a page with questions to think about regarding the Buddy System. There is an "I Spy" page where the student can journal where you have seen God during this lesson. Next is a Mini Book page. The pattern for the mini book is at the back of the journal and you attach it to this page when you complete it. The next page is a Word Search. Following is a "My Prayer" page where the student can write a prayer. Then another journaling page to discuss loneliness and why we are better together. Then another scripture memorization page (Psalm 278:3-4 NLT). Then a full page for a "Praise Report," a "Group Think" page where the student draws a picture or writes something about a group they would like to be a part of, another journaling page "Living Out Loud" to write about things the student is doing to help others, a couple of pages of questions to answer, a crossword puzzle, two pages of questions about The Wedding Feast and another page to record your favorite part of the story. The last page of Lesson 1 is a resource list of books and songs that relate to Lesson 1.
The Coloring Book has coloring pages that correspond with the various sections of the Lesson. My first grader enjoyed coloring a picture to help remember the information she was given or the story.
We are thoroughly enjoying this study. The girls look forward to the stories but they also provide very thoughtful insight in answering the questions and I can tell they are understanding the point of the lessons and growing in their relationship with Jesus Christ as a result. I would like to explore the other parts of this series over the next year or so and let them get the full impact of this study. This is the sort of teaching God expects of us when he tells us to bring up a child in the way that he should go. All homeschooling families and others as well should consider working through these studies with their children.
To read what others on the TOS Crew had to say, please click here:
TOS CREW
Disclaimer: As part of the TOS Homeschool Reivew Crew, I was given these books free of charge to review. However, I did not receive any compensation. All opinions are my own.