King Alfred's English / The Shorter Word
1345 Butler Bridge Road
Covington, GA 30016
770 786-6758
For sale at Amazon and other online bookstores. Lowest price is at CBD for $14.89.
Click Here to see more:
King Alfred's English / The Shorter Word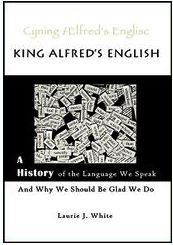 What a wonderful book! You get so much rolled into one with this book. You get some Language, history, and bible classes all in one very comprehensive book (170 pages soft cover). I received the e-version of this book but there is a paperback version available. This is one of the most entertaining sources for learning British History that I have seen. We have enjoyed reading this book and will hold onto it to reread when we are doing World History next year.
It was fun to see how many of our common and overused phrases originated with William Shakespeare. We also enjoyed finding out how some words evolved into the meanings they have today and what the original meanings were. We have even made up our own list of words that meant something many years ago and mean something totally different now and a list of words that a brand new in this century. Considering how many different countries invaded Great Britain and added their language to the mix, it is no wonder there are so many fascinating word studies that can be done.
There is a clickable resource list on the website (and in the back of the book), as well as printable worksheets and tests. There is even information on making this into a unit study.
To read what others on the TOS Crew had to say, please click here:
TOS CREW
Disclaimer: As part of the TOS Homeschool Review Crew, I was given this curriculum free of charge to review. However, I did not receive any compensation. All opinions are my own.