Christian Liberty Press
Mr. Pipes and the British Hymn Makers
502 W Euclid Ave
Arlington Heights, IL 60004
Currently selling for $9.89 on the
Christian Liberty website
.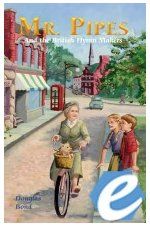 While the subject may seem dry at first glance, this book is fascinating in its history of some of the wonderful old hymns of the faith and even some general British history factoids that you and your children will find interesting. This book was published in 1999 and has 242 pages. It is recommended for grade 7-12 but I think younger children would find it interesting as well and adults will certainly find it noteworthy.
The story, illustrated in delightful pictures reminiscent of my old early reading books from the 1950s and 1960s, is about a young girl and boy (siblings) who are visiting Olney, England while their mother is doing research there. They find themselves with time on their hands in the quaint little village and become acquainted with the church organist, Mr. Pipes, who undertakes their entertainment and education for the period of their stay there and tells them all kinds of interesting things about the old hymn writers. Their every day adventures keep the children busy and they forget all about being "bored" and start enjoying the old hymns.
There is the story of Charles Wesley, the Anglican priest whose heart was with the downtrodden and visited the prisoners in Newgate prison to bring them the Good News of the Gospel and who wrote so many of the old hymns; and the story of John Newton, the slave trader, who gave his heart to the Lord and then wrote Amazing Grace, along with many others.
I loved this book and my girls are learning to love and appreciate the old hymns too as a result. What a wonderful addition this will make to any homeschool Bible curriculum!
To read what others on the TOS Crew had to say, please click here:
TOS CREW
Disclaimer: As part of the TOS Homeschool Review Crew, I was given this ebook free of charge to review. However, I did not receive any compensation. All opinions are my own.