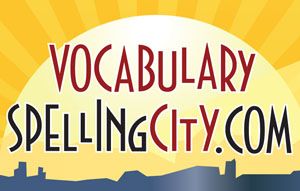 Vocabulary Spelling City
Price: $29.99 / year for up to 5 students
VocabularySpellingCity.com, Inc.
6300 N.E. 1st Ave., Suite 203
Fort Lauderdale, FL 33334
info@spellingcity.com
Phone (954) 357-1150
When I received a Premium Membership to
Vocabulary Spelling City
to review, I was excited because we have been using a well-known spelling program for years that is just a series of study sheets and tests. My oldest granddaughter has been lukewarm about that process although she has progressed well with spelling. She was thrilled to test out this program and was happy with the idea that she could play games and do some interesting things with a word list that she could study ahead of a test. I was happy that it brought vocabulary into the mix, as well as some grammar elements.
My youngest granddaughter is not ready for this program yet and so I was unable to put her on and unfortunately, my oldest granddaughter's schooling was on only 1-2 days a week during the summer because she had an outside internship and she ended up getting in all her days and finishing the school year half way into this review period. We have every intention of taking up where we left off when our school year starts again at the end of August, but we did not get to use this program extensively. What we did use and see of it impressed both of us.
You get printable handwriting worksheets, games, ability to make your own list or take their suggested lists of words, and all sorts of teaching resources and helps.
Even if you already have a spelling program like I have, this would be a great addition and $29.99 per year is nominal for what you get here. You can plug your curriculum's spelling lists into
Vocabulary Spelling City
and then take advantage of all the games and activities and worksheets that come with the program. I highly recommend this program.
To read what others on the TOS Crew had to say, please click here:
TOS CREW
Disclaimer: As part of the TOS Homeschool Reivew Crew, I was given this premium membership free of charge to review. However, I did not receive any compensation. All opinions are my own.